Our Technology Stack
We work and play with the latest trends and technologies. Our team of web designers and developers are flexible enough to incorporate any new strategy. We make use of .Net, PHP, Java, iOS, CSS3, HTML 5, Javascript, MySQL, XHTML, XML and many more. Further, we welcome new thoughts keeping in touch with the changing market needs.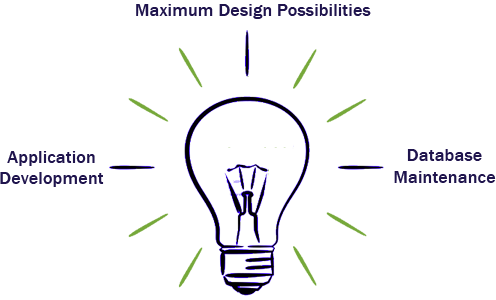 Maximum Design Possibilities
Our approach towards design is simple yet creative. We offer unlimited options using HTML, CSS, Flash, Ajax, XML and Javascript.
Application Development
We are experts in providing Java and .Net (VB 6.0 and VB.NET) based solutions. We create, develop and execute web pages having a sense of balance and clarity.
Database Maintenance
Our comprehensive strategy mainly focuses on maintaining database warehouses for administration and other tasks. For the same we work with MS-SQL Server 7.0/2000, MySQL, Oracle-9i, etc.