Why Choose Us?
There might be thousands of Web and IT companies bestowing about their work. But, we, at BlueNetVista, believe in presenting creative work each day. We have learnt from our past projects and get motivated to combine all our expertise in the upcoming projects. We break our own records for excellence in web development & designing, internet marketing and information technology, etc. Apart from experience and expert skills, we follow simple formulas leading to higher customer satisfaction levels! To know more, as why we have become the preferred choice of the clients read below: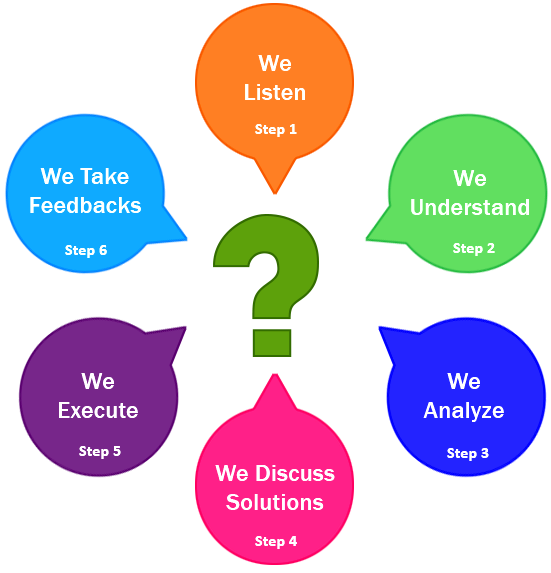 We Listen
For any good web development company it is essential to listen to the client. We don't go by references of others, and believes that each client is different and so their needs as well. We let the client speak freely about his requirements and business so that we can later analyze and propose the best solution.
We Understand
Just because we know all technical work, we will not impose our thoughts on client's ideas. We give full respect to what our client wants and in what way. We understand client queries and work on it without any negligence. We have a team of project manager ready to plan and design client's projects along with scope of making it even better than being told to us!
We Analyze
We don't go by false promises. We hate committing for something which is not possible either due to technical limitations, or any other reason. To avoid any kind of confusion we analyze client's requirement and match the same with our experts. We carefully make a list of day-to-day implementation of the project such that managing any promotional, designing or hosting projects becomes an easy task.
We Discuss Solutions
Blue Net Vista does not let the client sit back and see whatever is going on! We ask, discuss and confirm each of the steps before finally executing it. In case there is anything which has to be reviewed than we first inform the client and wait for his reply. We work in open, interactive and easy manner, establishing strong communication relationship between the company and client.
We Execute
We execute the exact plan which has been approved by the client. We don't make any sort of change without taking the client's consent. We apply all our knowledge and resources and do not make a single mistake in rendering quality services. We have experienced team members to operate diverse services offered by the company. Our team members make sure that the project does not get delayed and is completed before the expected timings.
We Take Feedbacks
Our work does not get finished on project submission but extends to the next important step which is evaluation. This is done by taking feedbacks from the clients without any miss. We see whether the client is satisfied according to what he has initially expected. In case, there are any changes to be done than our team is flexible to work on it. We see from client perspective and judge things on the basis of the same. We consider our success in the success of our clients and strive hard to perform at par with excellence!